Maximize Your F.E.C Revenue Down
To The Minute With Smarter
Time Tracking Wristbands
Jump Ringz are the answer to the wristband inventory crisis, maximizing revenue, reduced liability and arcade, locker, gate and payment systems. Shock Jump Ringz allow operators to maximize capacity by selling timed admissions per minute and even offer RFID and NFC technology for contactless payment solutions when integrated with pos software. Jump Ringz Options include stand alone non-integrated version and integrated pos version offered by a variety of pos software companies.
Our patented magnetic locking clasp system only allows staff to remove the bands. Ultimately this reduces no liability waiver participants and/or guests who reuse Tyvek bands and participate on attractions where an injury could occur. The Jump Ringz innovative design includes charging stations in sets of 150 Jump Ringz per station to accommodate small to large entertainment centers.
Often trampoline parks use outdated color-coded paper wristbands that only enable staff and guests to book time in 30-minute increments. The result is that either guests need to wait until their start time on the hour or they go in earlier, resulting in loss of revenue for the operator and a limited ability to track and manage facility capacity.
Maximize revenue by minute


Stop wristband theft & re-use


Free up your staff time


Streamline time tracking



Chinese Patent Pending
How Jump Ringz Smart Wristbands Work
Guests book a time specific ticket of their choice and admission time starts when the band is activated upon arrival
Staff activate the band using the RFID reader to register the guest in the POS system (integrated version). Staff activate the band using the Shock Scanner Activator by selecting a time option on the scanner gun (Stand Alone Non-Integrated Option).
On-site staff attach the band using the magnetic clasp system to the wrist
Jump Ringz super LED lights pulse bright blue indicating active admission time and increasing the WOW! factor
Staff is able to track guests and their time via the pos software (Integrated Version).
Staff remove the bands with a magnetic release lanyard and have the ability to address the guest's experience improving guest retention by addressing any customer service situations immediately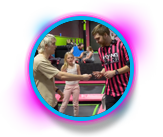 Jump Ringz pulse bright red indicating expired admission time and alerting staff with bright LED lights that make it easy for them to monitor active and expired guests without wristband color charts, stickers, or annoying voice announcements for expired time
Bands are disinfected and placed back on the charging dock to be used again.
Staff can focus on running the business and maximizing revenue down to the minute with Jump Ringz
Streamline
staff operations
Eliminates no
waiver liability
Eliminate theft &
reuse of wristbands
Waterproof &
rechargeable
Super bright LED
when time ends
4 Ways Outdated Wristbands Hurt Your Revenue
& How Modern Wristbands Can Fix That

With paper wristbands customers can book time in 30 minute increments which leaves un-billed time and ultimately hurts your bottom line.

Once paper wristbands expire, your staff wastes time trying to find wristbands of specific color. As a result, your staff is less productive and your oeprations aren't as efficient as they can be.

Paper wristbands are often stolen, lost, or reused by visitors. This un-billed time hurts your bottom line and worsens the experience of regular visitors due to unplanned crowds caused by reused wristbands.

Every new order of paper wristbands creates unnecessary inventory expenses & operations cost.

No thanks, I'll stay outdated.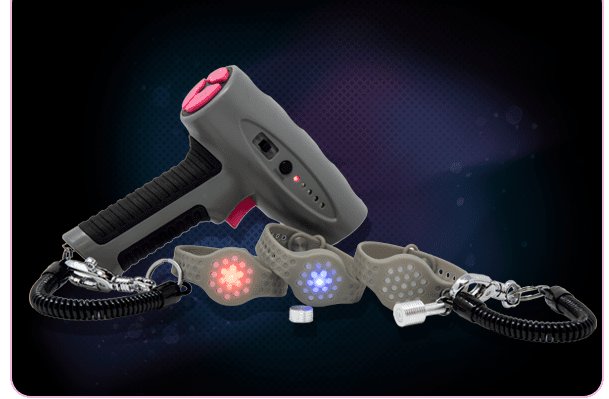 Modern RFID LED wristbands like Jump Ringz track time in 1 minute increments to help you bill every minute spent in the park which leads to maximized capacity & increased revenue.

Once Jump Ringz RFID wristbands expire, they start to shine red. It's super bright so your staff can easily see and remove expired paricipants to free up space.

Jump Ringz are equipped with a magnetic clasp system which is only removeable by staff. Never worry about stolen or reused wristbands again!

Jump Ringz LED wristbands are re-usable, re-charable (~11 hours battery) and water proof. Once you get them, they're all yours to use without any recurring expenses.
Jump Ringz vs. Tyvek Wristbands and Printed Stickers
Expense
(1 year)
Tyvek Wristbands
Badge Stickers – Printed Wristbands
Jump Ringz
Cost
*Based off of 100,000 - 194,000 Jumpers
$10,000.00-$19,441.00 *$0.10/per band
$19,000.00-$36,860.00 *$0.19/per badge - band
$12,420 - $24,240 *150/300 Bands
Theft
$1,000.00-$10,000.00
$1,000.00-$3,000.00
$1,224.00 *36 Lost Bands
Inventory Labor
$1,260.00 *84 Labor Hours
$750.00 *50 Labor Hours
$1,224.00 *36 Lost Bands
Capability to maximize capacity
Time Intervals: 15 Minutes, 30 Minutes, 1 Hour
Time Intervals: 15 Minutes, 30 Minutes, 1 Hour
Time Intervals: Per Minute
Liability
Customers can cut bands to re-use or transfer to another person without a liability waiver. Wristbands are considered a value of cash which increases theft.
Customers can cut bands/remove stickers to re-use or transfer to another person without a liability waiver. Wristbands/Stickers are considered a value of cash which increases theft.
Jump Ringz Magnetic clasp system requires your staff to remove the bands. This eliminates re-using or transferring the band to another person without a liability waiver. Jump Ring must be activated by your staff to enter trampoline courts.
Customer Service
Employees often make these mistakes which impacts your customer service. 1) Using the wrong wristband color and your customers jump time ends early. 2) Attaching the wristband wrong and the band falls off. 3) Running out of band colors causes operational issues.
Wristband and Sticker printers often have technical issues. Technical issues cause delay in customer check-in speed. Stickers are removed and placed throughout the park on the walls, furniture and other areas. Power outages can cause operational issues.
Increases the WOW factor and eliminates employee errors. Power outages will not cause any operational issues. Jump Ringz operate 2+ days without requiring a recharge.
Total Cost (1 year)
$12,740.00 - $31,181.00
$21,230.00 -$41,090.00
$11,644.00 - $25,464.00
Shock Trampoline is bringing the Fanny Pack back! Jump Ringz Fanny packs allow your staff to have the perfect place to store Jump Ringz that have been collected from customers after their jump time has expired. This helps prevent lost Jump Ringz from staff attempting to hold them or cram them in their pockets. Once the Fanny pack is full, staff can return them and place them back on the charging station so they are good to go for the next customer! Fanny packs also include a reinforced connection point to attach the magnetic release lanyards to so they are not lost or misplaced. The Fanny Pack also has ample room for a radio or other items that your staff may need to carry.
INTERESTED IN UPGRADING TO
JUMP RINGZ WRISTBANDS?
Visit our contact page and fill out the form and our staff will reach out within 24 hours.